Lindy S.Hudis is a graduate of New York University's Tisch School
of the Arts, where she studied drama. She is a former actress, having appeared on such television shows as "
Sunset Beach" and "Married with Children". Her romantic murder mystery,
Weekends
, is currently available from Lachesis Press. She is also a filmmaker, her independent short film "The Lesson", which she wrote, produced and directed, screened at the Seattle Underground Film Festival. She is co-owner of an independent production company called Impact Motion Pictures. She and her husband Steve, a Hollywood stuntman, have just completed the screenplay adaptation of Charmaine Hammond's best selling book, "On Toby's Terms." She lives in California with her family.
Visit Lindy on the web
To get your paperback copy of CRASHERS: A TALE OF CAPPERS AND HAMMERS by Lindy S. Hudis at Amazon
To get your ebook copy of CRASHERS: A TALE OF CAPPERS AND HAMMERS by Lindy S. Hudis in the Kindle Store
Visit Lindy S. Hudis' publisher's page
Like Lindy S. Hudis on Facebook
Follow Lindy S. Hudis on Twitter
Follow Lindy S. Hudis at Goodreads
Like Lindy S. Hudis at LinkedIn
Visit Lindy S. Hudis film production company
About the Book: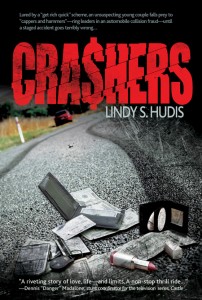 Fraudulent car accidents is a multi-million dollar racket, involving unscrupulous medical providers,

personal injury attorneys

, and the cooperating passengers involved in the accidents—and who also receive a portion of the illegal proceeds. Such is the fate of newly engaged, Nathan and
Shari, whose joy is tempered by the dark cloud of mounting debt.
A chance encounter with a stranger in whom Shari confides her troubles proves fortuitous: he tells her of a get-rich-quick scheme that will put her and her fiancé on easy street. Seduced by the chance to move from hard times to good times in no time, Shari takes the carrot offered her, and finds herself acting as a "stuffed passenger"—the "victim" in a staged auto accident. The act goes according to plan and Shari gets her payday, but getting out and breaking free of the insurance fraud underworld will take nothing short of a miracle.
A modern day cautionary tale, Crashers is a true-to-life novel that uncovers how the innocent get lured into the scheme of "cappers" and "hammers."
A riveting story of love and desperation, greed and redemption.