All my books are set in London, including my latest, The Miracle Inspector, a dystopian novel that takes place in the near future. England has been partitioned and a big fence has been built around London. Schools and theatres have been closed down and women are not allowed to work outside the home. Parks are used like giant allotments to grow fruit and vegetables, and sheep are herded down Piccadilly towards Green Park to graze. It's a kind of ghost town, with very few people on the streets unless they're members of the ruling elite, travelling in official cars. This is because women are not allowed out of their homes unless they're visiting members of their family (leading to all sorts of subterfuge, with women claiming to be related to each other so they can get out and about) and many of the men have been dragged off to prison on trumped up charges.
The real London doesn't have a big fence around it, though it does sometimes feel as if the city is functioning like a separate nation state inside the UK, with people who live here only interested in what's happening in London, and identifying as Londoners rather than English, British or (since many come from abroad) the nationality of their country of origin. Some have a kind of dual nationality – they're Londoners and they're Jamaican. They're Londoners and they're Welsh or Scottish or Sri Lankan or German.
But in all other respects, the dystopian London I have created in The Miracle Inspector is very different from the real London. The real London is a crowded place of intellectual and creative freedom. It's a vibrant, diverse, crazy, exciting place that's great to live in and fun to visit.
Though I was born here, I was raised elsewhere in England when I was a child, and returned to claim it when I was eighteen. I have considered living in New York, San Francisco and Paris (which city-lover hasn't?) and I lived for a short while in Sydney, but I have never left London for longer than a year and a half, and then only for an exciting adventure that took me travelling around the world with my daughter when she was young.
One of the reasons I love London so much is that I knew about it from literature before I lived here. Though it was sometimes portrayed as dangerous and dirty, it was always an exciting place full of people from all over the world, a centre for culture and a place of freedom where inventiveness and creativity could flourish. Whatever you want, London has it, whether it's art and culture, restaurants, nightclubs, concerts, parks, markets, beautiful buildings, history or(whether you want it or not, let's face it, you're going to need it) employment. It's an expensive city but a lot of the entertainment is free, including all public art galleries and museums, and there are cut-price tickets available for the theatres. Or you can just walk around and look. It's dirty! (Why don't people pick up their litter? Why do they drop it in the first place?) But it's beautiful.
Despite all the attractions it has to offer, what makes London such a special place is the people. There are people living and working here from every country in the world. Some have come to seek their fortune, some have come to study, some have found love, and some are seeking sanctuary. London is a city of immigrants – not just from other countries, but from other parts of our country. There are Londoners who were born and raised here, but still more, like me, have come to claim it. It means that Londoners are not particularly friendly to visitors (we're all strangers here) nor unfriendly (it's not my city; it belongs to all of us).
London is exciting to write about because of the landmarks and historical settings that are recognisable even to readers who have never been here; because of the eccentricities and diversity of the people; and because it's constantly changing – pin it down, write about a moment in time, and you find you have recorded a moment of history to add to all the other literature about this amazing city.
London's wonderful. Come and visit!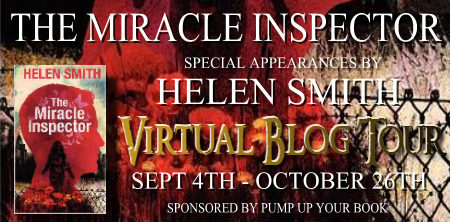 About the Author: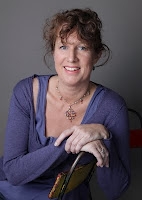 Helen Smith
is a member of the Writers Guild of Great Britain and English PEN. She traveled the world when her daughter was small, doing all sorts of strange jobs to support them both – from cleaning motels to working as a magician's assistant – before returning to live in London where she wrote her first novel which was published by Gollancz (part of the Hachette Group).
She is the author of bestselling cult novel
Alison Wonderland
. She writes novels, poetry, plays and screenplays and is the recipient of an Arts Council of England Award. She's a long-term supporter of the Medical Foundation for the Victims of Torture and mentors members of an exiled writers group to help them tell their stories.
Her latest book is the dystopian thriller
The Miracle Inspector
.
Visit her website at
http://www.emperorsclothes.co.uk
.
Friend her on Twitter:
www.twitter.com/ emperorsclothes
Become a fan at Facebook:
http://www.facebook.com/authorhelensmith
Friend her at Goodreads:
http://www.goodreads.com/author/show/2833648.Helen_Smith
Pick up a copy of The Miracle Inspector at Amazon:
http://www.amazon.com/Miracle-Inspector-Helen-Smith/dp/0956517056
About the Book: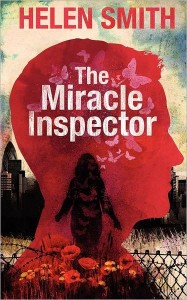 The Miracle Inspector
is a dystopian thriller set in the near future. England has been partitioned and London is an oppressive place where poetry has been forced underground, theatres and schools are shut, and women are not allowed to work outside the home. A young couple, Lucas and Angela, try to escape from London – with disastrous consequences.
"…this is an absolutely exceptional piece of fiction, a work of art befitting the best in socially-conscious literature."
– Journal of Always Reviews
"…Only occasionally does a piece of fiction leap out and demand immediate cult status. Alison Wonderland is one."
– The Times
"…Smith is gin-and-tonic funny."
– Booklist
"Smith has a keen eye for material details, but her prose is lucid and uncluttered by heavy description. Imagine a satire on Cool Britannia made by the Coen Brothers."
– Times Literary Supplement