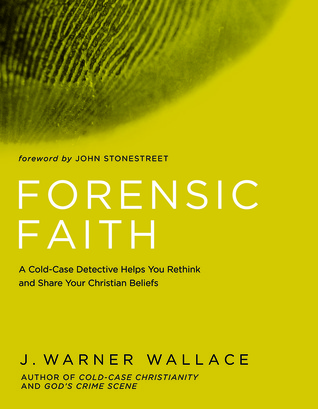 Forensic Faith will help readers:
understand why they have a duty to defend the truth
develop a training strategy to master the evidence for Christianity
learn how to employ the techniques of a detective to discover new insights from God's Word
become better communicators by learning the skills of professional case makers
With real-life detective stories, fascinating strategies, and biblical insights, Wallace teaches readers cold-case investigative disciplines they can apply to their Christian faith. Forensic Faith is an engaging, fresh look at what it means to be a Christian.
Review:
This is a great books for those of faith. Although readers who are not Christian would also enjoy this read for insight, education, and understanding. For those that are Christian, it can be challenging to have conversations about topics and subtopics that you are unsure of how to answer due to lack of knowledge in that field. This books helps the reader learn how to communicate the truth of Christianity so that others can understand what Christianity is really about. The author talks in a strait-forward and easy to understand manner as though you're sitting for coffee for the conversation. When I was reading his explanations I would find myself saying "that totally makes sense!"
This book has been a lot of fun to share with my daughter and implementing the skills and knowledge of this book in conversations, especially having to do with Christianity.