Mystery/Suspense/Thriller
Date Published:
Dec 22, 2018
A MAN COPES ANY WAY HE CAN AFTER KILLING HIS ONLY SON.
His team believes he's calm and Zen. His boss finds him obsessive. Suspects think him gorgeous but dangerous. They're all right.
Chief Inspector Gray James is sculpting the remembered likeness of his small son when he receives the call – a faceless corpse is found hanging by the choppy river, swirls of snow and sand rolling like tumbleweeds.
Montreal glitters: the cobbled streets slippery with ice, and the mighty St. Lawrence jetting eastward past the city. One by one, someone is killing the founders of a booming medical tech startup – propelling Gray into a downward spiral that shatters his hard-earned peace, that risks his very life, that threatens to force him to care and face what he has shunned all along: his hand in the storm.
From the prize-winning author comes a psychological, page-turning mystery with all the elements one needs on a rainy night: a complex murder, a noble yet haunted detective, and an evocative setting to sink into.
Author Interview:
#1 – Do You See Writing as a Career
Absolutely. My Chief Inspector Gray James mystery, His Hand In the Storm, has been downloaded over 100,000 times, and the sequel, Kill Me Why, is also a bestseller.
I write what I like to read and hope others will connect to the work. And there are many side benefits to being a writer. You get to explore interesting themes and speak through your characters -- say things you wouldn't otherwise.
The character I speak through in the book is wry and somewhat inappropriate Forensic Pathologist John Seymour. Every cheeky thing that comes to my mind, I say through him. And I get to solve murder cases alongside Gray. Of course, there's a lot of me in Gray as well. For better or worse, I seem to be one of those women who can easily access her masculine side :-)
I'm fascinated by my protagonist CI Gray James. He's had a tough life and made some harsh choices, which he's going to pay for. I would say he's a mashup of Adam Dalgliesh, James Bond, and Hercule Poirot! All in all, I trust him, and the reader does too. He's also gorgeous, rich, and has a dimple in an interesting place. Why not?
#2 – What was the Hardest Part of Your Writing Process?
The fact that you're indoors and alone much of the time. Sure, you can have writers groups and so on... but a writer lives in his or her imagination. And that can sometimes be isolating.
Marketing your book is intense and demanding, but also fun.
Although I didn't choose it as a profession, business is in my blood. My dad had a chain of jean stores while I was growing up. I began working there after school, on the weekends, and full-time in the summers when I was twelve. By fourteen, I was managing a staff of ten in the flagship store during my off-school hours.
Self-publishing is perfect for me because both my left and right brain get exercised. When I'm writing, I drift into 'relaxed-Ritu' mode: she lives on a beach in Hawaii and the plot, the characters, and the scenes come together in between swims, coffee, and lightness.
The times I spend in business mode anchor me. Which I really need. Plus, I enjoy deciding how the cover should look; choosing a blurb.
The good far outweighs the bad. Honestly, I'd pay to have people read my work, and here, I get paid for it? What could be more awesome?
#3 – Did you have any One Person Who Helped You Out with Your Writing Outside of Your Family?
My entire family. They put up with a lot.
I did a master class in Tuscany with bestselling author Elizabeth George. She's a great mentor, and I'm so happy to have met her.
#4 – What is next for your writing?
I have three projects on the go: a standalone suspense, a children's book, and of course, the third installment of the Gray James series. For the third book, my detective is back in wintery Montreal. Readers really connected with that setting.
#5 – Do you have an addiction to reading as well as writing? If so, what are you currently reading?
I'm a mystery reader. I'm reading a Colin Dexter mystery.
DESCRIBE Your Book in 1 Tweet:
This or That?
#1 - iPd or Mp3? Mp3
#2 – Chocolate or Vanilla? Chocolate
#3 – Mashed Potatoes or French Fries? Fries
#4 – Comedy or Drama? Drama
#5 – Danielle Steel or Nicholas Sparks? Nick Sparks
#6 – Fantasy or Reality? Reality
#7 – Call or Text? Call
#8 – Public School or Home School? Public
#9 – Coffee or Hot Chocolate Coffee
#10 – eBook or Paperback? eBook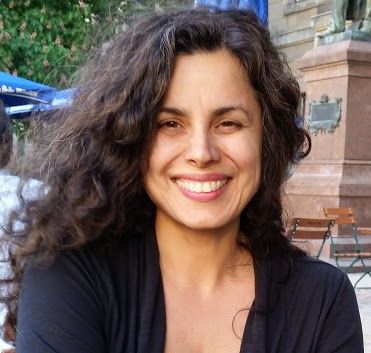 A MYSTERY; A BEACH; A BEER: Ritu's favorite vacation day.
Ritu's first book, His Hand In the Storm has had nearly 50,000 downloads. It became an AMAZON BESTSELLER in the Kindle free store and was #1 in all its mystery categories. She needs coffee (her patch for Coca Cola), beaches, and murder mysteries to survive – not necessarily in that order. She won the Colorado Gold Award for the first in the Chief Inspector Gray James Murder Mystery Series, His Hand In the Storm. The book was also a Daphne du Maurier Suspense finalist.
She's fulfilling her lifelong desire of becoming a mystery writer. Many thanks to all the readers who are making that possible.
Contact Links
Purchase Links