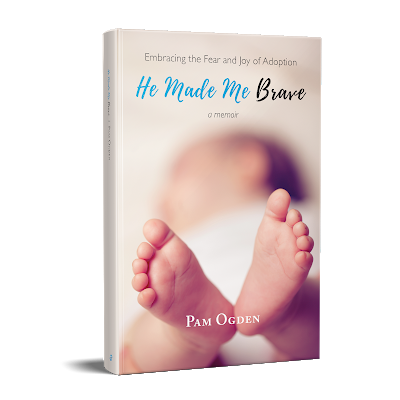 Non-Fiction - Parenting, Christian Living, Inspirational
Date Published:
June 14, 2018
Publisher: Lucid Books
This is not a fairy tale--but it does have suspense, humor, a quest, and a happy ending. When Jason and Pam Ogden decided to adopt a baby, they had no idea that their adoption process would stretch over a period of two years, and that their baby would be a toddler by the time they were able to bring him home. Taken straight from Pam's personal travel journal, He Made Me Brave chronicles the long-awaited emotional trip she and her husband took to South Korea to meet their new son. Through these powerful journal entries, you will:
· Experience Pam's fear, grief, anticipation, and joy as you read her private, honest thoughts.
· Discover the challenges faced by these adoptive parents as they started the bonding process.
· Be encouraged by God's sovereignty and power over anxiety.
He Made Me Brave is the touching memoir of a mother defying fear to be united with the little boy she had been dreaming of for two years, and an account of hope fulfilled.
Guest Post:
My real inspiration for this book was the anxiety I felt about traveling to South Korea to pick up our son. I started out just documenting the events leading up to our trip, but then realized that recording the physical details of my surroundings had an incredibly soothing effect. It forced me to concentrate on reality instead of the constant barrage of crippling fears: fears of flying, fears of being in a different country, fears of parenting, and fears of traveling with a new child who was a stranger to us. Partway through the trip, when I read through what I had written to that point, I realized that a beautiful picture of the experience was emerging—a time capsule of all the smells, sounds, and conversations that would bring the whole trip back to life when I read it later. I never intended to turn my journal into a book, and it was purely a therapeutic device in the beginning. But when we committed to pursuing another adoption, I decided to publish the journal entries to help raise awareness of the realities of adopting a toddler. When we were anticipating the trip to pick up our little boy, I would have been very thankful for a personal account of someone else's experiences because it would have allayed some of the anxieties I was feeling. As I shared the book with other, I found that being able to read about the whole experience, including the emotions involved, helped people who weren't touched by adoption to better understand what adoptive families face, and why the relief and joy of that first meeting is inherently commingled with grief and even guilt. And finally, we hope to raise funds for our next adoption with the proceeds from the book. Our family is eagerly anticipating the day we bring our newest member home.
Excerpt:
My parents, Jason, and I crowded around my mom's laptop, giggling
and pointing and crying at the photos of a sweet 9-month-old baby boy.
Who was ours from the moment we called back and said the word, "Yes."
Who was meant to be ours even before that.
We had no idea on that day how long it would actually be before we
could hold him. The adoption process slowed dramatically until it seemed
to be grinding to a stop. The wait was maddening as new delays continued
to pop up. Wait times for parents anticipating travel increased from just a
handful of months to a year or more.
About the Author
Homeschool mom and pastor's wife Pam Ogden had dreamed of being a mom since she was a little girl. She and her husband wanted six children, but their plans were waylaid when high-risk pregnancies and premature births threatened their first four babies. In 2012, they adopted their son, and in 2017, they started the process to adopt one more child. Pam graduated with honors from George Fox University, receiving a Bachelor's degree in Writing and Literature, and a Master's degree in Counseling. Pam loves her small town life in Sweet Home, Oregon, with her husband, Jason, and their five children, Kelly, Luka, Ivan, Ember, and Hudson. Pam and Jason hope to add one more child soon.
Contact Links
Purchase Links