15 best-selling romance authors. A holiday-themed collection like no other.
kissing bough doesn't necessarily stay beneath the kissing bough...
origins of which date to the late 12th century, no lady should refuse a kiss
beneath the mistletoe, else she will not marry in the next year. In exchange
for the kiss, a berry is removed from the sprig until all of the berries are
gone and no more kisses can be stolen. Some also believe that a sprig of
mistletoe collected from a local church and placed beneath a maiden's pillow
will inspire dreams of her future husband.
fifteen daring heroines pin their hopes on mistletoe, a little luck, and a kiss
in this multi-genre, limited edition holiday collection from 15 bestselling
authors? Pure holiday magic!
TODAY bestselling and National bestselling authors Sandy Blair, Suzanne
Ferrell, Kathryn Le Veque, Jeanne Adams, Anna Campbell, Tina De Salvo, Barbara
Devlin, Joan Kayse, Catherine Kean, Anna Markland, Hildie McQueen, Meara Platt,
Elizabeth Rose, Jordan K. Rose, and Lana Williams.
DESTINY'S KISS BY ELIZABETH ROSE: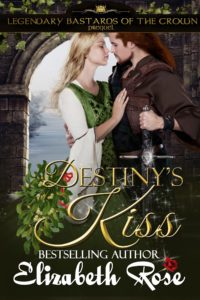 Lady Annalyse Granville is the cursed second-born twin, feared by all and said to have been spawned by the devil. Hidden away in an abbey most her life, she now returns to her father's castle at the request of her very pregnant sister who happens to be the king's mistress. Things change in Annalyse's life quickly as soon as one of her father's guests, a Scot named Ross from Clan Douglas, traps her under the kissing bough – and she receives her first kiss.
UPON A MIDNIGHT DREAM BY KATHRYN LE VEQUE: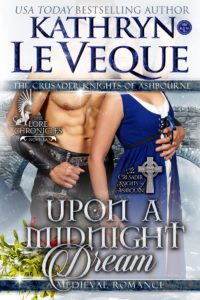 A weary knight returning from King Richard's crusade, Sir Rennington of Ashbourne comes back to England only to realize he is essentially homeless. His father has died and his elder brother has inherited everything. Unwanted, and nearly destitute, Ren finds his way to Derby Cathedral on a snowy December night to sleep and figure out what he is going to do with his life. As he dozes beneath the boughs of mistletoe, hung for the Christmastide season, he hears the chatter of two women as they plot against their eldest sister. A woman, they say, who lost her betrothed on Richard's crusade and who has vowed never to wed.
Unfortunately, their wealthy father has declared that the eldest daughter, his heiress, must marry before the younger daughters can entertain suits of their own, so the two sisters hatch a scheme to force their sister to dream of the man she is to marry. They pluck berries from the Christmas boughs hung around the cathedral with the sole purpose of sneaking them beneath their eldest sister's pillow so she will dream of her love.
As Ren hears the plot, he hatches one of his own... he will go to the eldest sister and coerce the woman into marrying him. No longer will he be homeless; he will marry a woman of wealth and assume her money. It seems like an excellent scheme but the moment he arrives at Thulston Manor, he realizes he may have gotten himself into a situation that will come back to haunt him. The heiress is not at all as he expected. And so begins the unconventional romance of Sir Rennington of Ashbourne and Lady Holly St. Maur.
CLOSE TO SANTA'S HEART BY SUZANNE FERRELL: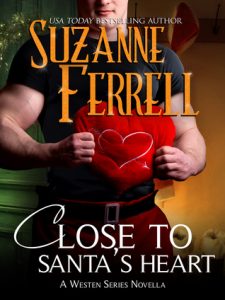 As Westen's resident Santa, Deputy Cleetus Junkins brings the magic of Christmas to his beloved home town each year. He oversees lighting the tree in the square and raising the huge mistletoe kissing bough in the gazebo. At the parties he visits with children and the elderly. Amid all this joy even Santa can be lonely. Or he used to be. This year, Cleetus has a helper.
Sylvie Gillis came to Westen for a fresh start only to have her heart immediately melted by a shy gentle giant of a deputy. Her childhood was short on happiness but playing elf to Cleetus' Santa makes her want to believe in Christmas miracles.
As Cleetus and Sylvie help bring Christmas joy to the citizens of Westen, the holiday magic weaves its way into their hearts. Will the reason Sylvie left home come between them or can she stay Close To Santa's Heart?